Ekon Okotie-Eboh (KIA)
From Star Trek: Theurgy Wiki
Personnel File

Name:
Ekon Okotie-Eboh
Rank:
Chief Petty Officer
Position:
Operations
Species:
El-Aurian/Human
Age:
88
Gender:
Male
Orientation:  
Heterosexual
Birthplace:
USS Enterprise-B, Sol System, 2293
Height:
6ft 2in / 1.88m
Weight:
198lbs / 90kg
Hair:
Black
Eye color:
Brown
Played by:
Adewale Akinnuoye-Agbaje
Writer:
Fife
Interests
Swimming
Working Out
Reading
Cards
Tongo
Education
2325-2326: Starfleet Boot Camp

2332-2333: Starfleet Medical (Nursing)

2361-2362: Starfleet Boot Camp

2362-2363: Starfleet Medical (Nursing)

2369: Starfleet Bootcamp: Supplemental Operations Training

2375-2378: Starfleet Academy
Service Record
2326-2328: Crewman 3rd Class, Medical Orderly, USS Huron

2328-2330: Crewman 2nd Class, Medical Orderly, USS Huron

2330-2332: Crewman 1st Class, Medical Orderly, USS Huron

2333-2336: Petty Officer 3rd Class, Nurse, USS Enterprise-C

2336-2337: Petty Officer 2nd Class, Nurse, USS Enterprise-C

2337-2338: Petty Officer 3rd Class, Nurse, USS Enterprise-C

2338-2339: Petty Officer 2nd Class, Nurse, USS Enterprise-C

2339-2340: Petty Officer 3rd Class, Nurse, USS Enterprise-C

2340-2342: Petty Officer 2nd Class, Nurse, USS Enterprise-C

2342-2343: Petty Officer 1st Class, Nurse, USS Enterprise-C

2343: Resigned from Starfleet

2363-2366: Petty Officer 1st Class, Nurse, USS Saratoga

2367-2369: Petty Officer 1st Class, Nurse, Starfleet Academy

2370-2372: Petty Officer 2nd Class, Operations, USS Hiroshima

2372-2375: Petty Officer 1st Class, Operations, USS Hiroshima

2378-2380: Petty Officer 1st Class, Operations, USS Cayuga

2380-2381: Chief Petty Officer, Operations, USS Cayuga
Decorations
2343: Starfleet Extended Tour Ribbon

2374: Starfleet Medal of Valor

2375: Dominion War Victory Medal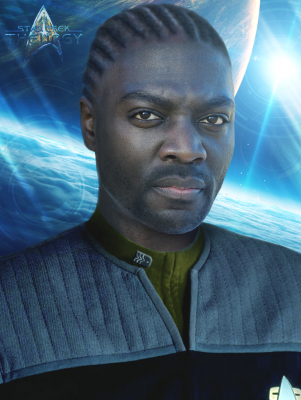 Chief Petty Officer
Ekon Okotie-Eboh
served aboard the
USS Cayuga
in the Operations department when it was disabled and left adrift following a
Borg
attack in 2381. As of March 2381, it was unknown if he might later join the crew of the
USS Theurgy
in it's battles against a corrupted
Starfleet Command
in the late 24th century.
Biography
Ekon Okotie-Eboh was born Ekon Guyani in 2293 aboard the USS Enterprise-B. His mother Reala Guyani was one of the 47 El-Aurian refugees the Enterprise rescued after the SS Lakul and the SS Robert Fox, transporting over 400 El-Aurian refugees to Earth, were destroyed by the Nexus energy ribbon. Ekon never knew his father, a human who was assimilated by the Borg while fighting with the El-Aurians who attempted to resist them. While he was growing up Ekon's mother refused to talk about his father, claiming the memories were too painful. Ekon and his mother made the rest of the journey to Earth safely, where Reala tried to build a life for them. They lived in Abuja, Nigeria, where Ekon's father was from. Reala got a job as a bartender. His mother remarried when Ekon was 3, to a man names Alexander Okotie-Eboh. Alexander adopted Ekon shortly after the marriage, and Ekon's last name was changed. Alexander was a very religious man, and frequently took Ekon to church with him. Ekon always enjoyed this time with Alexander. Reala and Alexander remained married for 4 years, until the marriage ended when Alexander grew tired of Reala's partying and infidelity. After the divorce Alexander gave Ekon a silver cross he had always worn around his neck, and Ekon never saw Alexander again.
Things were not easy during Ekon's younger years. His mother was frequently gone, at first because she was working late, then in later years because she was busy with Starfleet Academy. Ekon found he had no parent at home taking care of him, and no one telling him what to do. As a result, Ekon began to go out at all hours of the day, hanging out with other kids who were similarly unsupervised and getting into trouble. He would occasionally get into fights, and in general was not a "good kid". By the time he was twelve he could scrap with the best of them and was taking part in card games with other unsupervised youths, betting with money stolen from a variety of places. One advantage of being El-Aurian was that he had a knack for reading people, and he did well with the games.
He was caught by police and arrested numerous times for drugs and illegal gambling, but his mother never seemed to care. On several occasions the police had called his mother when he was arrested but had been forced to just let him go when his mother never showed up to claim him, the charges not being severe enough to warrant juvenile detention.
In 2308 when Ekon was 15 years old his mother graduated from Starfleet Medical as a Counselor, which Ekon found hilarious since his mother couldn't even deal with her own family. Reala was posted to a starship, and Ekon was left on his own, having refused to go with Reala. Ekon never saw his mother again.
With his mother gone, Ekon was left to fend for himself, and became a dealer at an underground gambling house. The man who ran the gambling den was glad to have him as a dealer since he was so good at reading the other players. He taught Ekon sleight of hand so that he could try and rig play when he thought the players had a good hand.
Ekon worked at the gambling house for 2 years, until the authorities finally got wind of it and shut it down. Ekon, who was 17 years old now, applied to Starfleet Academy, but had been rejected. Angry with the perceived slight from Starfleet, Ekon left Earth and travelled on a cruise ship, working as a bartender in exchange for passage. The next 15 years saw Ekon bouncing from star system to star system, job to job, never really having found a place that felt like home. At one point he fell in with some Ferengi "traders" and spent several years running illegal cargo on a smuggling ship. After the first 3 years working as a smuggler with the Ferengi, Ekon began to reflect that he had once wanted to join Starfleet, a good and honorable pursuit, even if that hadn't proved the case with his mother. He began to feel disappointed with the direction his life was going. He made the mistake of voicing his doubts to one of his "friends" among the Ferengi crew. During an "operation" with his Ferengi crewmates, which involved them boarding a transport vessel and removing several pieces of the vessel's cargo, his crewmates turned on him. While his back was turned one of the Ferengi, a small lobed toad of a Ferengi names Gor who was always trying to earn the respect of his crewmates, pulled a hidden weapon and aimed at Ekon. Ekon noticed the weapon in the reflection on an inactive control console just in time, and barely managed to get out of the way of the shot. He killed Gor with his bare hands, and shot 2 other members of the Ferengi crew before they fled. When he was discovered by the crew of the transport vessel they had been robbing, he claimed to be a stowaway on the transport vessel, and that he had stopped the Ferengi from robbing them. The Captain of the transport vessel didn't seem like he fully believed Ekon but couldn't prove otherwise and so allowed Ekon to work for his fare the rest of the way to Earth. Ekon was deeply angered by the situation, as he had lost all of the money he had accrued while working with the smugglers. He also felt like this was his punishment for living a life of crime for so long, and vowed to himself to turn his life around.
Finally, in 2325, Ekon returned to Earth determined to start a new chapter in his life. He joined Starfleet as an enlisted crewman and went to Starfleet Bootcamp.
In 2326 Crewman 3rd Class Okotie-Eboh was posted to the USS Huron, working as a medical orderly. He spent the next 6 years aboard the Huron before returning to Earth and receiving training as a Nurse at Starfleet Medical. In 2333 PO3 Okotie-Eboh was posted to the USS Enterprise-C, and spent the next decade serving aboard the Enterprise. Ekon had a bit of a rough start aboard the Enterprise, experiencing some hazing from some of his new crewmates. He tried not to let it bother him, and applied himself whole-heartedly to his work. After 3 years aboard the Enterprise he was promoted to Petty Officer 2nd Class. After his promotion tensions started to mount between Ekon and PO3 Watson, who thought he deserved the promotion rather than Ekon. There were several confrontations, but these confrontations never came to blows until a year alter when Watson was once again overlooked for promotion and took it out on Ekon, who had nothing to do with it. Ekon was simply sitting in the mess hall enjoying a coffee and a book when PO3 Watson came up behind him and dumped his coffee on the book. Ekon flew out of his seat in a rage and broke Watson's nose and jaw, as well as using Watson's body to break a table. The result of this incident was that in 2337 Ekon was demoted back to Petty Officer 3rd Class and given an official reprimand on his permanent record. There continued to be issues between Ekon and PO Watson, especially after Ekon was promoted to PO2 again, once again over Watson. This resulted in several minor altercations that resulted in warnings until finally in 2339 Watson once again pushed Ekon too far, and Ekon once again assaulted PO Watson in the mess hall. He beat Watson quite badly, and had to be restrained by several other crew members.
By 2342 Ekon finally got promoted to Petty Officer 1st Class without further altercations, as Watson had been identified as having provoked each of the incidents and been sent back to Earth for remedial training and reposting. At the time Ekon had had a strict warning from Captain Garrett that if he caused any more trouble he would be shipped off as well, and he took great care not to lose his temper or get involved in any more altercations.
In 2343, after serving in Starfleet for 17 years, Ekon resigned and attempted to return to civilian life. After having served in Starfleet for so long, the transition was difficult. After about 6 months as a civilian Ekon entered a relationship with a human woman named Cassandra Fletcher, and things became serious very quickly. Two years later the two were married. Cassandra was an archeologist, and the two travelled throughout the Alpha Quadrant for Cassandra's career, with Ekon working odd jobs wherever they went. Ekon enjoyed the traveling and loved Cassandra deeply.
All that was taken away from him when Klingon raiders attacked the ship they were travelling on while heading back to Earth in 2354, with their ship narrowly escaping. Cassandra was killed during the attack, and Ekon was badly wounded. Ekon doesn't remember much from the attack, but he will never forget waking up to find his wife's lifeless body lying on the floor next to him. The ship's doctor had to sedate Ekon to stop him from hurting himself or someone else in his hysterical state.
For the next three years Ekon jumped from job to job, city to city, never staying in the same place for long. He worked as a civilian nurse at an orphanage in San Francisco in early 2361, at which point the combination of his proximity to Starfleet and his life having fallen apart led him to re-enlist in Starfleet in 2362. Ekon was sent back to Starfleet Bootcamp for re-training after his 14 years out of Starfleet. After the loss of his wife and the chaos of the attempts at civilian life, Ekon welcomed the structure and discipline of Starfleet. It felt like he had come home again. Following Bootcamp Ekon returned to Starfleet Medical for refresher training in Nursing and additional training in emergency medicine to enhance the ability of Starfleet medical personnel to work in shipboard medical response and away team medical response and evacuation. Ekon loved the new training and couldn't wait to get back aboard a Starfleet ship.
In 2363 Ekon was transferred to the USS Saratoga, serving as a member of the medical team. He served on the Saratoga until it's destruction in December of 2366 at the hands of the Borg at Wolf 359. Ekon had been a member of the ship's medical team, retrieving casualties and getting them to sickbay. Ekon and a fellow medical NCO were carrying a wounded civilian towards sickbay when the command to abandon ship was given. The two decided to get the civilian to the nearest escape pod, where a security Lieutenant ordered them aboard the pod as well. The Saratoga was destroyed by the Borg cube shortly after the pod's launch.
Following the destruction of the Saratoga and their subsequent rescue, Ekon accepted a posting at Starfleet Academy as a nurse, happy to get away from the dangers of space for the time being. After seeing so many dead at Wolf 359, he was at first happy to throw himself into the mundane work at the medical center at the Academy, performing routine medical exams on new candidates and dealing with whatever minor medical issues the cadets brought to him. However, after 2 years of being posted to the Academy he found the routine grind at the Academy medical center had become boring, and he began to feel restless. Ekon decided he wanted a change and applied for a change in departments. In late 2369 Ekon returned to Starfleet Bootcamp for supplemental training as a member of the Operations Department.
In 2370 Ekon was posted to the USS Hiroshima as a Petty Officer 2nd Class in the Operations Department, having had to take a reduction in rank with the transfer to a new department. Ekon found himself on unfamiliar ground initially, having to become familiar with him new duties. He found he enjoyed the challenge, and also found it refreshing to be doing something that didn't involve seeing people who were sick and injured every day. Working to keep the ship running was much simpler, and the ship wasn't in the habit of screaming or crying out when it was damaged.
In late 2372 Ekon became involved with an Engineering Ensign, a human named Teresa Vasquez. Ekon knew it was inappropriate for a Petty Officer and an Ensign to be romantically involved, and the two kept their relationship a secret.
The Hiroshima saw extensive use during the Dominion War, and Ekon found himself frequently involved in combat operations, both aboard ship and on away missions. He also found himself involved in the odd firefight, and he began to enjoy it. He felt alive during the firefights, be it with Cardassians or Jem'Hadar. During one incident in 2374 Ekon and a medical orderly named Hanson were carrying a wound crewman to sickbay, the transporters having been disabled, when the were ambushed by a Jem'Hadar boarding party. The Jem'Hadar immediately opened fire, killing Hanson. Ekon managed to get the wounded crewman they had been escorting through a doorway before either of them was hit, and managed to kill the first Jem'Hadar that followed through the doorway with him phaser. While he took aim at the second Jem'Hadar that came through the door he heard the wounded crewman call out a warning but didn't have time to react. As he fired his phaser, killing the second Jem'Hadar, he felt a searing pain in his back. A Jem'Hadar had transported behind him and driven his knife into Ekon's back. Ekon had dropped to his knees and fallen onto his side, seeing the wounded crewman begging for mercy as a Jem'Hadar raised his rifle, aiming at the crewman's head. That was the last thing Ekon saw before he blacked out. He awoke in sickbay two days later, the Jem'Hadar apparently having left him for dead. Both Hanson and the wounded crewman had been killed, along with several other crew members before the Jem'Hadar boarders were finally repelled. For his efforts to save his fellow crewmen, Ekon was awarded the Starfleet Medal of Valor, though he never felt like he deserved it.
During another incident in 2374 Ekon was part of an away team trying to rescue the crew of a disabled Starfleet ship when they came under attack by Dominion forces. Ensign Vasquez was on the away team as well, and was hit by Cardassian weapons fire from an enemy boarding party. Ekon saw her fall, saw her body hit the deck, and saw her lifeless eyes staring up at the ceiling. It was too much for Ekon, who for the second time had lost someone he loved. Ekon lost control and killed several of the Cardassians with his phaser rifle and one with his bare hands before the commander of the away team dragged him away down the corridor, leaving Teresa's corpse lying there among those of the Cardassians Ekon had killed. After the incident Ekon became withdrawn from many of his crewmates and developed a thirst for combat. He volunteered for every away mission and seemed to thrive during combat situations, finding that it was now the only time he felt alive.
With the end of the Dominion War came a sense of having lost himself. Ekon found he had become too accustomed to combat over the previous years. He spent the first few months of peacetime reflecting on him actions and found himself horrified at the fact that he had actually enjoyed the fighting, enjoyed cutting down one of the enemy with his phaser, even as his comrades and crew mates were being cut down as well. Ekon sought help from the ship's counsellor, and after several months of sessions was finally learning how to deal with his feelings about the war and his actions. Ekon also applied to Starfleet Academy during this time and was accepted.
Ekon started at Starfleet Academy in late 2375 and felt out of place right from the start. Seeing the new recruits, green as can be, made Ekon feel like a grizzled veteran with almost 30 years of experience with Starfleet. He talked little about his previous time in Starfleet and was evasive if questioned by the other cadets. He made a few close friends during his 3 years at the Academy, though his first year got off to a rocky start. Throughout his first semester Ekon was frequently reprimanded for getting into fights and was forced to attend more counselling sessions. He was almost kicked out of the Academy following an incident in his second year, when he pistol whipped cadet Tyson Kennedy with his phaser after an exercise. The cadet, who had been goading Ekon since the first week at the Academy, had slapped him after they successfully finished a rescue scenario, and had subsequently had his nose broken. The incident was deemed to be harassment on the part of cadet Kennedy, and no further action was taken against Ekon, though he received an unofficial warning that his violent tendencies would not be tolerated any longer.
Ekon devoted himself to becoming a better cadet and managed to stay out of any further conflict for several months, until another incident involving cadet Kennedy. Ekon and some other cadets were out at a bar on the weekend, and Kennedy and some of his friends happened to be at the same bar. Kennedy was already intoxicated when they arrived, and things quickly went south. The very drunk Kennedy approached Ekon and shoved him back before turning to a female cadet who was Ekon's friend and grabbing her breast, at which point Ekon punched Kennedy in the face and drove Kennedy's face into the countertop of the bar, shattering his nose yet again.
Kennedy failed a grievance with the Academy and despite the circumstances Ekon was expelled from the Academy and returned to the rank of Petty Officer 1st Class with a permanent reprimand on his file.
PO1 Okotie-Eboh was assigned to the USS Cayuga as a member of the Operations crew. Things aboard the Cayuga were fine for a while, until Cadet Kennedy arrived aboard the Cayuga later in 2378 for his cadet cruise. Kennedy seemed to have made it his personal mission to make Ekon miserable, and he seemed very adept at it. He went too far one day, however, when he cornered Ekon and punched him, and was seen by the Chief Medical Officer, Lt. T'Panu. Lt. T'Panu also saw the resulting damage done to Kennedy by Ekon, in the form of another punch to the face, followed by a right hook and Kennedy's face being forcibly smashed into the bulkhead, and reported the full incident to Captain Stott. The Captain shipped Kennedy back to Starfleet Academy. No action was taken against Ekon following the incident, as T'Panu had born witness to the initial assault and reported to Captain Stott that Ekon had acted in self-defence.
In 2381 Chief Petty Officer Okotie-Eboh was aboard the USS Cayuga when it was attacked by a Borg cube and left disabled and adrift in a sector adjacent to the Azure Nebula.
Personality Profile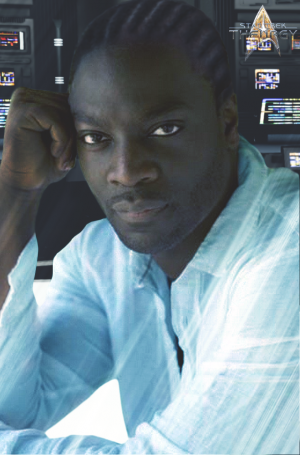 Ekon had made considerable progress in overcoming the issues that had plagued him following the
Dominion War
. He still felt the sense of disgust with himself for enjoying the conflict and the fighting, but had worked to stop holding on to those dark emotions, as well as the hatred towards the species that had been his enemy. He viewed the
Cayuga
as a fresh chapter in his life and worked hard to be a positive influence on those he worked with.
While serving aboard the Cayuga, Ekon exuded a calm and friendly manner, and was usually viewed as gentle and easily approachable. He was not a typical El-Aurian in many senses, but his Listener nature showed through in situations involving his friends and crewmates. He was always willing to talk to his crewmates and listen to any problems they might have. He was never excitable, as he found that few things got his blood really pumping since the war, but he was glad of this. It allowed him to display a steady sense of calm to the other members of the Cayuga´s crew. Deep down though, there was still the spark of the old Petty Officer Okotie-Eboh, itching for action. He also had a problem with relationships, holding a fear of losing those he grew close to, and tended to withdraw emotionally whenever someone started to get too close.
Ekon takes great pride in his Starfleet career, and has devoted much of his life to Starfleet and the Federation. He believes the work Starfleet does is of the utmost importance, and has devoted his life to that work.
When not working on various parts of the ship, Ekon can usually be found in his quarters, lost in thought or with his nose buried in a book and drinking a raktajino.
Physical Profile
Ekon was a tall man, measuring 6'2" tall. He had dark skin and a muscular build, and would generally be described as fit. He had short black hair and brown eyes, and generally held himself in a relaxed and confident manner. He still had a nasty scar on his lower back and stomach where the Jem'Hadar knife impaled him, which he refused to let the doctor remove.
Ekon has few personal possessions that he cared about aside from the silver cross his step-father gave him, which he never took off.
Special Notes
Name pronunciation: Ekon Okotie-Eboh (Ekk-own Oh-Koh-Tee Eb-Oh)
Having grown up in Abuja, he spoke with a deep Nigerian timber. Had a proper if heavily accented way of speaking and did not swear, although he tolerated swearing from those around him.
Starfleet Service Number: SP-996-871
Appearances
S01E05 Courage is Fear: Part One
Chapter 03
Epilogue
S01E05 Courage is Fear: Part Two
Chapter 02
Chapter 05
Epilogue