Starbase 84
From Star Trek: Theurgy Wiki
Name:
Starbase 84
Class:
Orunal-class
Type:
Class-3
Status:
Active
Dimensions:

Diameter : 3,810 m
Height (main) : 4,648 m
Height (overall) : 5,795 m

Mass:
58,000,000 metric tonnes
Decks:
1200
Crew Complement:
15,000 Starfleet
20,000 to 35,000 civilian
Warp Speed:
Not capable of independent movement; attitude control and/or orbital adjustment only.
Tactical Systems:

220 x Type XII phaser arrays, total output 2,240,000 TeraWatts
22 torpedo launching platforms, with 2 launching tubes each.
Maximum stock: 4000

Shield Systems:

Shield Dimensions:
4200m in diameter, 6000m in height

Defence Systems:

Light Duranium/Tritanium Single hull
Low level Structural Integrity Field
Tacyon Defence Grid

Tractor beam Emitters:
Docking Facilities:

Internal docking bay, capable of holding up to 16 starships, depending on type
15 hangar bays capable of holding up to 300 shuttlecraft
26 Airlock Shuttlecraft Bays
4 Workbee Staging Pads (on top of the docking wings)
Fighter Assault Bay with 4 Wings of AC-347 Knight-class Interceptors
(250 fighters in total)



Just outside the Romulan Neutral Zone floated Starbase 84, a Starfleet outpost functioning as a seat for diplomacy, a vanguard and a signal-post to warn the Federation of any Romulan incursions. It was under the command of Ian Hawthorne by the time that Starfleet Command was compromised by alien usurpers in the 24th century.
Orunal-class Starbase Demonstration
Starbase 84 Blueprints
Starbase 79 Blueprints (copyright 2004) belong to illustrator Lawrence Miller and if free for viewing at http://www.starbase79.com/
History of Orunal-class Spacedocks
For many years Starfleet depended on single-ship orbital platform facilities for the construction and maintenance of its starships. However, the rapid expansion of the Federation during the late twenty second and early twenty third centuries was fueling an increase in the size of Starfleet and the existing platforms were becoming unable to cope with the workload. By 2260 Starfleet was petitioning for a major new orbital facility to be built, and in 2263 it was decided to proceed with this project. The requirement was for a space station which would put all the refining, processing, manufacturing and assembly facilities required for manufacture and maintenance of starships into one place. When finished in 2274 the station was essentially a small city, dedicated to Starship production - cargo ships would bring raw materials in at one end of the line, starships would roll out at the other. This enabled Starfleet to eliminate much of the transportation requirements previously involved in starship construction; the resources saved by this centralisation covered the initial outlay for Spacedock within ten years.
Once it was realised that such efficiency savings could be achieved, it was decided to proceed with further stations in other major centers of Starship production. Starfleet has continued to add new Spacedock facilities to its inventory ever since, with the total now up to sixteen.
Over their lives these stations have seen many revolutionary changes; the advent of industrial scale replication in the twenty fourth century was a major revolution throughout the Federation and led to a major refurbishment of the manufacturing facilities on the Spacedocks. This freed up much internal volume, allowing a considerable increase in living standards for the crews. Many different sensor and weapon suites have been utilised on these stations over the years, the most recent being improvements to the shields and weapons to counter the Borg and Dominion threats. It was planned to equip all Spacedocks with quantum torpedoes in place of their photons, but the relatively limited number of such weapons available has made this unfeasible. Instead the Type IV photons have been replaced by Type VI models to give increased penetration power against heavy shielding.
During the last five years the Federation has seen a marked upswing in the level of threat directed toward it. As a result of this all Spacedock facilities have been working at maximum output in order to put as many new ships into the fleet as possible, as well as producing weapons for ground forces and other war materials. As such, these stations continue to form the backbone of the Federations war production capability.
General Information
Starbase 84 was a general purpose facility with additional communication and defence capabilities. This because it was located close to the Romulan Neutral Zone. It was made operational on stardate 8916.32. The standard complement for an Orunal-class starbase was 40,000 to 50,000 full time residents, workers and independents. Guest facilities existed for 8,000 additional personnel. UFP charter stipulated that half of this capacity was made available for UFP and Starfleet personnel. On Starbase 84, the complement looked like this:
15,000 Starfleet personnel
20,000 to 35,000 civilian
When a starbase was situated in orbit around a Federation member planet, had to obey the laws and customs of that culture. Also, some Federation members dictated that starbase personnel was comprised of a certain percentage of the local population. Starbase 84 was, however, orbiting a Class Q planet. The planetoid developed near a star with a variable output. As such, conditions on the planet's surface were widely varied. Deserts and rain forests existed within a few kilometres of each other, while glaciers could simultaneously lie very near the equator. Given the constant instability, it was virtually impossible for life to exist on the planet, so Starbase 84 upholds the tenets of the Federation and abide by Earth's laws, customs and culture.
Starbase defences varied with their location within the Federation. Starbase 84, however, contained the following:
220 x Type XII phaser arrays, total output 2,240,000 TeraWatts
22 torpedo launching platforms, with 2 launching tubes each.
Maximum stock: 4000
Travel Core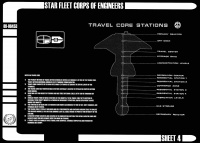 The Travel Core consisted of six high speed mag-lev tracks extending the entrire length of the starbase. The Travel Core had fourteen main statons centrally located to population centers within each section. So, the primary method of travel between levels within a Orunal-class starbase was by use of the Travel Core. Travel within indivual leveles (one level being the spacedock or the residential level, for example) was done with standard turbolifts. Each mag-lev car on the six tracks held 30 humanoids and had three interior levels - entry available on all three.
The average travel time between stations was one minute, total travel time top to bottom was generally 15 minutes, although in alert situation, rapid depolyment could be under three minutes. The timetables for each car was staggered and varied according to the time of day, shift changes, and statbase alert status.
The Travel Core was totally enclosed and self-pressurised, and contained airlock seals to isolate the various levels of the starbase. In a critical damage alert, all seals engaged and protected the structural and environmental integrity of the station. Elevator repair facilities were located in the fabrication stection. Two spare eleveator cars were always ready for deployment wtih two more in storage.
A travel pass was required to use Travel Core services. Starbase employees and Federation members were, of course, exempt.
Drydock Section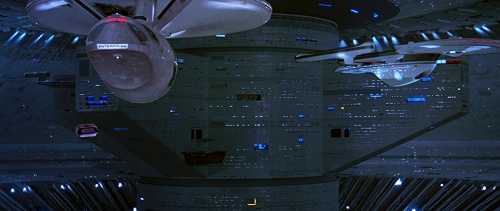 The drydock section of Starbase 84 was also called the spacedock. It accomodated up to 16 heavy cruisers for repair and resupply. Docking space was allocated on a priority basis with no bias towards planet or origin of race. In the event of a Starfleet alert condition, all shuttle bays would be be cleared of commercial vessels if so possible. In all other cases, they would be sealed within their bays to prevent civilians from launching during such an alert condition.
Docking Facilities
Internal docking bay, capable of holding up to 16 starships, depending on type
15 hangar bays capable of holding up to 300 shuttlecraft
26 Airlock Shuttlecraft Bays
4 Workbee Staging Pads (on top of the docking wings)
Fighter Assault Bay with 4 Wings of AC-347 Knight-class Interceptors
(250 fighters in total)
Repair Facilities
Engine Refit Bays
Warp Dynamic Testing Labs
Reactor Maintenance Bays
Superstructure Assembly & Test Faciities
Weapons Test & Calibration Facility
Sensor Testing Mobility Gantry
Electronic Maintenance & Test Facility
Transporter Calibration
Waste Reclamation Facility
Decontamination / Bio Bay
Crew
Commanding Officers
Command Crew
Disclaimer
The technical specifications and been compiled and changed around from various sources over the web, among them Memory Alpha & Ex Astris Scientia.