Warp Factor
From Star Trek: Theurgy Wiki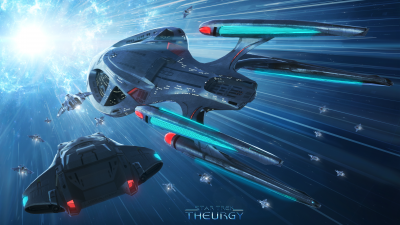 Warp factor
was the primary means of measuring speeds attained using warp drive. An alternative term time-
warp factor
was also used. The term was often shortened to warp when followed by its value, so that saying "warp six" is the same as saying "
warp factor
six." Faster-than-light travel began after warp one, whereas lower fractional values were sometimes used to measure sublight speeds. Spacecraft ordinarily traveled at a higher integer
warp factor
.
By the 24th century, infinite velocity was designated as warp factor ten. It was considered to be unattainable by conventional means. Because of this, extremely high warp factors were indicated with decimal values between nine and ten, such as warp 9.975.
| Speed | Km/h | X Lightspeed | To Near Star | Across Sector |
| --- | --- | --- | --- | --- |
| Full Impulse | 270 million | 0.25 | 20 years | 80 years |
| Warp 1 | 1078 million | 1 | 5 years | 20 years |
| Warp 2 | 11 billion | 10 | 6 months | 3 years |
| Warp 3 | 42 billion | 39 | 2 months | 1 year |
| Warp 4 | 109 billion | 102 | 18 days | 2 months |
| Warp 5 | 230 billion | 214 | 9 days | 1 month |
| Warp 6 | 423 billion | 392 | 5 days | 19 days |
| Warp 7 | 700 billion | 656 | 3 days | 11 days |
| Warp 8 | 1103 billion | 1,024 | 2 days | 7 days |
| Warp 9 | 1.63 trillion | 1,516 | 1 day | 5 days |
| Warp 9.2 | 1.78 trillion | 1,649 | 1 day | 4 days |
| Warp 9.6 | 2.06 trillion | 1,909 | 23 hours | 4 days |
| Warp 9.9 | 3.29 trillion | 3,053 | 14 hours | 2 days |
| Warp 9.99 | 8.53 trillion | 7,912 | 6 hours | 22 hours |
| Warp 9.999 | 215 trillion | 199,516 | 13 minutes | 53 minutes |
| Warp 10 | Infinite | Infinite | 0 | 0 |