Difference between revisions of "Environment Manipulation Unit"
From Star Trek: Theurgy Wiki
---
Revision as of 22:35, 30 July 2020
The Environment Manipulation Unit (E.M.U.) was designed by Starfleet Corps of Engineers in an effort to integrate Medusans into Starfleet. The first step was the installation of a radiation shield in front of the upgraded Constitution-class transporters, thereby removing the need for Starfleet cress needing a protective visor when transporting Medusans.
Medusan Electromagnetic Container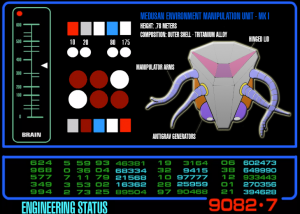 Environment Manipulation Unit (Mark I) (2270-2274)
The E.M.U. Mk I resembled the original habitat shell but was upright and streamlined. It came equipped with inbuilt antigravs and a set of robotic manipulator arms in recesses along its sides. The lid of the E.M.U. had a domelike shape that vaguely implied a head and was more secure against accidental opening.















Environment Manipulation Unit (Mark II) (2274-2379)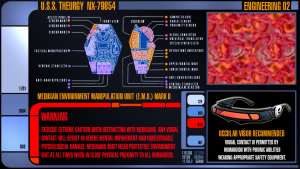 == Environment Manipulation Unit (Mark III) (2379-present) ==