Brody Miller
From Star Trek: Theurgy Wiki
Personnel File

Name:
Brody Ryan Miller
Rank:
Commander
Position:
Executive Officer
Species:
Human
Age:
Twenty-Eight (at time of death)
Gender:
Male
Orientation:  
Heterosexual
Birthplace:
Earth
Height:
6ft 3in / 1.91m
Weight:
198lbs / 90kg
Hair:
Black
Eye color:
Dark Brown
Played by:
Michael B. Jordan
Writer:
Stardust (NPC)
Interests
Rock Climbing
Swimming
Martial Arts
Holo Novels
Kayaking
Cooking
3D Chess
Education
2352-2357: Santa Ana Elementary


2357-2361: Jefferson B. Willson Middle School
2361-2365: Newark Arts High School


2365-2368: Starfleet Academy in San Francisco
Service Record
2368-2369: Ensign, Security Admin, USS Farragut


2369-2370: Ensign, Security Officer, USS Tranquility
2370-2371: Lieutenant J.G., Senior Security Officer, USS Rhode Island (Cover Assignment)
2371-2372: Lieutenant, Senior Security Officer, USS Rhode Island (Cover Assignment)
2372-2373: Lieutenant, Senior Security Officer, USS Valiant (Cover Assignment)
2373-2374: Lieutenant Commander, Chief of Security, USS Poseidon


2374-2375: Commander, Executive Officer, USS Poseidon
Decorations
2370: Star Cross


2371: Starfleet Commendation of Galantry
2371: Marksmanship Medal
2372: Extended Service Citation
2374: UFP Purple Heart (awarded retroactively)
2374: Legion of Merit (awarded retroactively)
2374: Starfleet Intelligence Star (awarded retroactively)


2375: Christopher Pike Medal of Valor (awarded posthumously)
Brody Miller was a Starfleet Officer in the security and later command branch. Born on earth, his service to Starfleet had been marked with exemplary and dedicated service, that went above and beyond of what was expected from an officer.
Rising quickly through the ranks, Brody had started his career briefly in security, but was quickly recruited into Starfleet intelligence, where he served for four years. Ultimately leaving this world behind and returning to duty as a Chief Security Officer, he ultimately transferred to command, becoming the Executive Officer of the USS Poseidon under longtime friend Isaac Reeves.
Serving in the Dominion War, he was ultimately killed in the rank of Commander, at age twenty-eight, during the final Battle of Cardassia. He left behind a wife of two years: Samantha Rutherford.


Biography
2347-2357
Brody Miller was born to Marlene (nee Beauvais) and Miles Miller on May 4th, 2347 in Huntington Beach, California, on Earth. His father was a mechanic for Earths public satellite uplink grid and his mother a homemaker. He was joined at age 2 by a sister, Allison, and at age 5 by a brother, Brandon. Shortly after finishing elementary school, the family moved to Newark, New Jersey, which had been a tough shift for the young boy, having to leave behind a lot of childhood friends he'd had for as long as he could remember. Even though transportation wasn't an overbearing problem, the fact that they now lived different lives in different time zones was.

2357-2365
Attending Middle and High school in New Jersey, the young boy made new friends quickly, if only to fill the void that had been created, and thus wasn't the best in gauging how good of friends these would be. Falling off the deep end a little bit towards puberty, Brody dabbled in as much mischief as you still could get into by the middle of the 24th century on earth. Crime was virtually non-existent, but there were still those at the fringes of assimilation by the peaceful mantras of the Federation, that rebelled in youthful spirit. It was in that time that he distanced himself a little bit from his family, mostly his parents, who always tried to steer him back on the right path. Sadly, as a teen, he did not see it that way.
However, through all the shenanigans, the young man truly developed a sense of confidence and the courage of dealing with things by himself and how to rally others to trust in his abilities to do so. But by the time he was finished with school he still didn't know what to do with his life. So, through a friend of his father's he got to enroll at Starfleet academy after passing a few aptitude tests aimed at those applicants with not the best of grades. It was also what got him into the security branch at first.

2365-2368
Brody showed good leadership throughout his time at the academy and exceptional problem-solving skills, as well as an innate ability to keep his cool in any situation. That, not entirely unwarrantedly, gave him the reputation of being careless, by some. He was certainly not beloved by all of his teachers, some of which found him to be overconfident and conceited. But he managed to 'command' even those, who did not hold him in the highest of regards, due to his conviction and confidence. So he brushed through the academy easily enough to garner him a posting on a prominent ship in the fleet right after graduation, the USS Farragut.

2368-2369
His time as a lowly security admin was pretty mundane, but he did not really mind it. The young Ensign gave his best performance and the sought his thrills and chills elsewhere. Be it on the holodeck, in the dating arena or one or the other brawl in the ship's bar. He had been reprimanded for childish indiscretions more than once, but they left nothing but a mere footnote in his files that soon got eclipsed by the bigger achievements of his career. He was subsequently handed over to the USS Tranquility alongside a good portion of the Farragut's security complement, for a mission to the recently liberated planet Bajor, supporting the local government in establishing order.

2369-2370
Life aboard the Tranquility was much different from that on a more prestigious part of the fleet. The hierarchies seemed much thinner and even as an Ensign, Brody was given a lot of responsibilities and room to breathe. An environment he truly began to blossom in. Being deployed for an extended mission on the surface, while the ship returned to earth upon the arrival of the Enterprise-D and the new Starfleet presence on Terok Nor, the security complement on the surface was still listed as Tranquility crew. It, however, became its own working entity under the command of Lieutenant Wilson, the ship's Assistant Chief Security officer. A man who was career driven and more concerned with the way things looked than what they really were. As were those close to him.
However, there were those on Bajor that did not welcome the Federation with open arms. There were downright terrorist activities being conducted against Starfleet. At one point the compound that the security complement was occupying, got under heavy attack by Bajoran militia cells, during which Lt. Wilson got incapacitated and Brody tried to take over command even though there were higher ranking officers there, who naturally contested. He felt like he had devised the best strategy for their survival in the face of shortening supplies but was subsequently (and unofficially) relieved of duty amidst the skirmish. Rallying together almost the entirety of his rank-mates and those similar in age, he eventually eluded the remaining superiors and evaded the 'suicide mission' through an overgrown stream in the fields behind the compound. The ones he lead out were the only ones that survived.
Fabricating makeshift Bajoran ridges out of clay from the riverbanks that would merely pass a superficial inspection the group managed to lay low in a villages nearby for a few days until they made their way to the next, government controlled outpost, which eventually relayed them back to Deep Space Nine – which had by now moved to the newly discovered wormhole. An official investigation was launched into the events, spearheaded by Starfleet admiralty, including one Nerva Anderson. The ultimate report did not find conclusive evidence that would justify Brody's action as insubordination, but was rather ambiguously classified as a 'decisive act against insurmountable odds'. And even though the ambiguity alone would've normally weighed hard on future postings the man's next deployment would greatly benefit from everything that had transpired.

2370-2372
Anderson put Brody on the USS Rhode Island, a ship in tight grip by the Intelligence services of Starfleet. Many of his valuable functionaries and operatives using it as a jumping board towards their individual missions. Disguising as a science vessel, the Saber Class ship was equipped with an upgraded warp-drive and transporter range, so she could easily get to each theatre in the Alpha and Beta Quadrant easily and without rising too many suspicions, due to her less than intimidating size and armament. In his time there, Brody did not only garner two promotions, but also was initiated into the world of covert ops. He was involved in many classified missions, coordinated by Admiral Anderson, who kept a close eye on the man and was present during many of his debriefings. They soon developed an almost father/son like relationship with all due respect still remaining.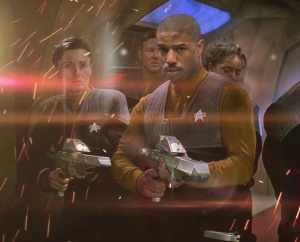 In 2372, however, Brody uncovered a hidden conspiracy, aboard the very ship, that hinted in Section 31 pulling the strings for almost the entirety of his tenure at Starfleet intelligence, even eluding his mentor, Anderson. It was ultimately Brody who brought the evidence to his attention and, as a single operative, was sent back to squash the influence the obscure institution had on the missions launched by one of Starfleet's most important covert hubs. Being propositioned for a cooperation by the Section 31 operative on the Rhode Island, he blew the man out of an airlock after a short skirmish and subsequent recorded admission. Impressed by the direct and successful approach Brody was ultimately given absolute liberty and a team of operatives on the newly commissioned USS Valiant.
FILE NOT FULLY DOWNLOADED